Wedding service costs
For a full wedding service in St Helena's Church, you can expect to pay €600. You will also need a licence, which you need to supply yourself.
Wedding blessing costs
If you have had a civil marriage and would like a church blessing in St Helena's, this will cost €350.
Music
If you bring a CD, you can play music during your ceremony. Alternatively you are welcome to bring a pianist; St Helena's has a Kawai electronic piano which may be used during weddings in the church.
Wedding at hotels
The basic cost for our services at hotels are the same as above, but you would, in addition, need to discuss rental costs with the hotel in question. Some will offer a discount for people staying at the hotel.
Contact us
now to receive information about how we can help you plan your Cyprus Wedding.
Thought from Scripture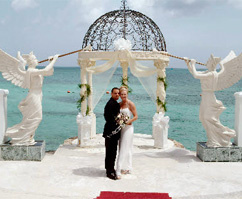 'Love is patient, love is kind. It does not envy, it does not boast, it is not proud… Love does not delight in evil but rejoices with the truth. It always protects, always trusts, always hopes, always perseveres. Love never fails.'
1 Corinthians 13: 4-8

Your Wedding

We provide wedding preparation and ceremonies for many couples each year, both local and from the UK. Our weddings are in the Church of England style, and are usually conducted either at the church or at one of the several local hotels.
Included in our costs is an hour's wedding preparation with the couple. You can design the service to suit your tastes, within the broad guidelines of the Anglican Church.  There are many choices of music and ambience. 
 
Wedding or blessing?

Some people prefer to have a civil marriage in the town hall, either in Cyprus or elsewhere, and then have a church blessing. This is common if one or other partner has previously been divorced. However, depending on  your circumstances, it may well be possible for you to re-marry in church. Please get in touch and let us know your situation, and we can then discuss the alternatives.
 
Location for your wedding

While many couples like a traditional service in St Helena's Church, we are also licensed to conduct Anglican weddings in hotel chapels, such as those at Palm Beach or Golden Bay.