Well, we have government permission to begin worshipping together in St Helena's again from 23rd May. So on Sunday, 24th May, we are able to gather in St Helena's for a Service of Holy Communion at our usual time of 9.30am.
Anne and I have been into church and spaced the chairs so that we can observe some physical distance (see picture below), and we will all use hand gel as we enter and leave the the church. If, at the moment, you usually wear a face mask and gloves when you are out or in spaces with other people, you are welcome to wear them in church.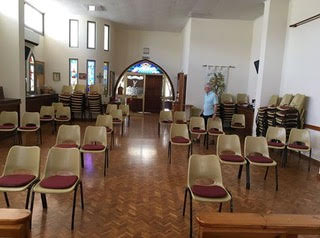 I am so delighted that we are able to share an Easter greeting together in the real world, though I have enjoyed worshipping with you virtually for the past nine Sundays.
Alleluia! Christ is risen.
He is risen indeed. Alleluia!
Worship will then continue as usual in church Sunday by Sunday and we look forward to seeing you whenever you are able to join us.