Safeguarding Mission Statement
St Helena's Anglican Church makes full commitment to the ongoing welfare and safekeeping of vulnerable children and adults attending this Church at all times.
We undertake the responsibility of all within our Church to protect them as far as is practically possible from abuse of any kind.  We will ensure that all proper procedures and guidelines are followed, and that the appropriate person will be assigned to conduct any required investigations.  A mentoring system will be in place.
As part of policy and good practice, the following people have been trained to the appropriate level and have been appointed as shown:
Protection Officer (PO):                      Mrs Marina Peters
Deputy Protection Officer (DPO):       Fr Geoff Graham
Katafiyio Retreat House
Latest information about the retreat house at Katafiyio can be found here.
Newsletter
Maggie LeRoy's latest newsletter, about the crisis and our response to it, is here.
Survey
I commend the attached invitation for churchgoers to take part in a survey gathering information about how they have experienced, and are still experiencing, the impact of the Covid-19 pandemic and consequent lockdowns.
The authors of the survey have adapted it for use in this Diocese. The information gathered and analysed will provide us with a useful view of the effects of the pandemic on churchgoers, which will help us reflect on what we have learnt during such a time and on what may prove valuable for the future.
I hope that you might be willing to take part. Hopefully you can just click on the link, otherwise cut and paste:  
https://tinyurl.com/ycjmbhpm

Christopher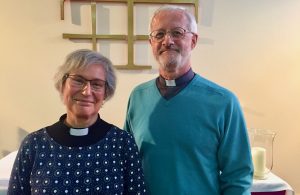 Anne and Christopher Futcher
We look forward to welcoming you to St. Helena's